ACCORDIONS
I rarely sell accordions.  I only sell if I already have a similar one in the collection.  Sometimes I buy an instrument in poor condition as a shelf sitter (you seldom play with items in a museum!) but then I may find another in better condition and sell the first to pay for the second!

DONATIONS
Sometimes I will purchase a rare accordion but my funds are limited.  More often than not I will give advice on where to sell an instrument rather than offer a low amount.  However, if I don't already have an example of a particular make and model if someone is kind enough to donate an instrument then I am often delighted to offer it a good home.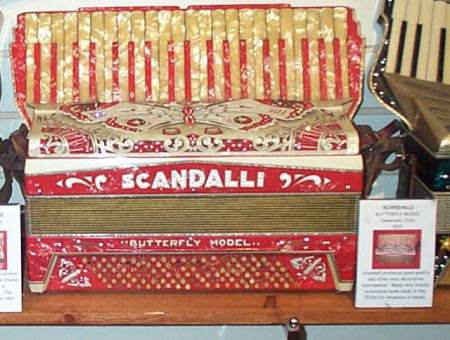 Scandalli Butterfly kindly donated by Charlie Todd
PUBLICATIONS
There are a number of books on accordions – almost all out of print and in foreign languages.
I can provide a list of some of these for anyone undertaking research on accordions. 
Sometimes I have copies for sale.   Below are some more recent books in English
Copies of these can often be obtained through this website:
 
 

Rob Howard has produced four volumes of A-Z of Accordion – these books contain a wealth of information on history, types of accordion and biographies of accordion players.
Vintage Accordions
by Rob Howard. 

Includes instruments from my collection and covers a brief illustrated pictorial history of the accordion.
The Golden Age of Accordion 
by R Flynn, E Davidson, & E Chavez .

A large illustrated book covering the history of the accordion, manufacturers and players in America. 
 OTHER ITEMS
I receive no funding for the collection and now make some accordion related items to raise money to purchase rare instruments.  These include Mouse or Table Mats, Drink Coasters, Earrings and Key Rings. Please email This email address is being protected from spambots. You need JavaScript enabled to view it. for current designs, availability and price list.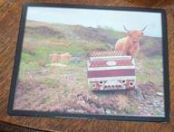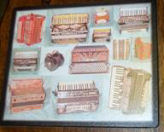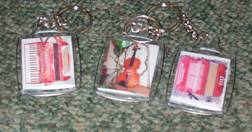 All content and images on this website are © Caroline Hunt, antiqueaccordions.com